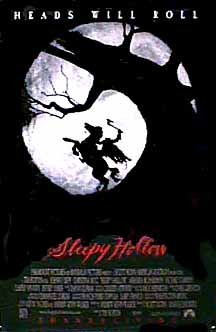 Sleepy Hollow
Directed By Tim Burton


In a nutshell, delightfully appalling. Heads roll and roll and roll, bloodying the winter snow in Tim Burton's latest, a highly adapted adaption of Washington Irving's "The Legend of Sleepy Hollow". He does not hesitate in delivering the macabre, gothic, creepy, bloody, surreal, and of course, funny. His attention to detail, a vision of bleak gloom mixed with childlike tenderness and tongue in cheekiness, offers something much finer than the usual slop dished out in big budget films.

Depp infuses modernity and charisma to the stodgy Ichabod Crane. It is 1799 and Ichabod has been transformed into a Constable, sent to investigate the beheadings rampant in Sleepy Hollow, New York. He stays at the Van Tassel estate, home of the bewitching Katrina Van Tassel (Christina Ricci), her evil stepmother Lady Van Tassel (and we know she must be evil because Miranda Richardson only plays evil ladies), and clueless father. Ichabod is attracted to Katrina, but he has work to do, whether she keeps leaving witchcraft signs under his bed or not. Of course he tracks down and confronts the truth about the Headless Horseman, but we already know that will happen. What's more important is how Burton decides to take us down that path, past the corpses whose heads have mysteriously disappeared, a tree that bleeds more blood than Scully and Mulder would ever care to investigate, and a town without any recognizable form of sunlight.

Depp and Ricci wore the rich period costumes designed by Colleen Atwood, acted and spoke the careful dialogue written by Andrew Kevin Walker (Seven), and walked through a perfect snowy hamlet filled with death captured by cinematographer Emmanuel Lubezki.Burton directed and it was all beautifully orchestrated.

If the witchcraft doesn't appall humorless suburban mothers, Burton's scenes of innocent children witnessing particularly gruesome deaths will. A young constable Crain witnesses his beautiful mother (played dreamily by Burtons's hot gothic girlfriend Lisa Marie) tortured and bloodied in an Iron Maiden, while another child listens to his parents battling the headless horseman while hidden under the floorboards. His mother is decapitated and her head, of course, lands right in the crack of the floorboards where her dead eyes lock on to her horrified son. These scenes show Burton at his best, when the truly horrid is wrapped up in in the Sunday comics and deflated with a cackle. It's all tongue in cheek, you see.

The casting of Depp and Ricci as a romantic couple works well. Ricci plays a nice princessy girl well, but we still remember her from the Adam's Family and would not like to cross her in an alley. Depp mixes brown eyed awkward hearthrob well with highstrung scaredy cat school marm. The horseman with head is played by Christopher Walken, who looks and acts yucky yucko with just the right amount of gusto.

Burton creates a perfect world in the hamlet of Sleepy Hollow. You should feel privileged to be able to stroll through, leaves crackling underfoot as you breath in the brisk automn air and gaze upon the bloody heads flying past you.

::
::


Copyright ©1998-2017 LA PLUME NOIRE All rights reserved.